Volunteer Opportunities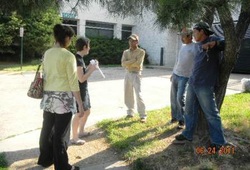 CIF appreciates volunteers! Volunteers are essential for the Center's operation. Volunteers can give what time they have. Even a few hours a week is valuable. We offer
training and orientation
for Center volunteers periodically. For those not sure whether they want to volunteer, attending a training session (about two hours) is a good way to reach a decision. When you are sure,
sign up to volunteer
. The training sessions completed in April introduced 32 persons to the general functions and procedures that volunteers can provide in the Center.
CIF plans additional training in September. If you are interested in attending or have any questions, please
contact us
. CIF will notify you when when the date(s) are set. A new sign-up form is available below.
---
Interested in Participating?
Forum participants currently include:
Note: Meetings are publicly advertised and normally on the
fourth Tuesday of every month at 7:00 P.M
. Meetings are announced in the
Centre View
and in local churches and other organizations.
There is
no formal membership
and each participant takes part as an individual.
---
Awards For Our Top Volunteers

Thank you to our great volunteers!
Awards were presented to our top volunteers at the CIF Annual Meeting on October 22.

Over 100 hours - Stphen Vandivere
Over 50 hours - Leonor Mariona
Mike Gillotte
Esther Holtermann
Judy Carter
Ellis Tsung
Jiaming Zhao
Cathleen Watkins

Top Administrative Volunteers
Terry Angelotti
Jim Daniels
Alice Foltz